When Pastor Paul announced to the congregation his plans to go to Yucatán for a vision trip, Mary and I both expressed the knee-jerk reaction of wanting to go.
We always desired to go on an international missions trip, but is this the one God is leading us to go on?
As the dust settled, I wanted confirmation from God that this is his calling for me. I typically wait for God to guide and direct my steps. Praying for discernment, I waited patiently for that telltale conviction in my gut or more than a coincidence set of events that prompts movement on my part. What do I do though when there is radio silence, when I hear no voice, no feeling or sense of guidance?
This time there didn't seem enough time to patiently wait for answers on going to The Yucatán peninsula. We only had 2 weeks to confirm our commitment. How would God want me to move? My only certainty in this was that sometime God wants us to pick up our feet so he can put the path down underneath.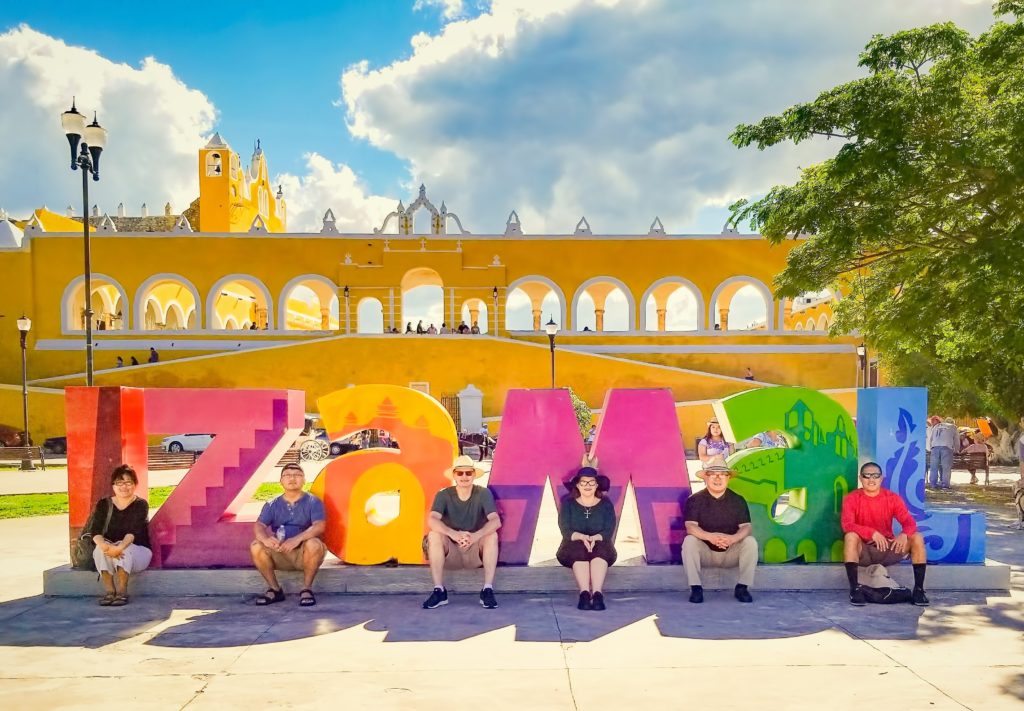 Pictured above is The Convent in Izamal, also known La Ciudad Amarilla, The Yellow City. Once visited by the Pope in 1993, it was thrust into the limelight. The entire city, once only dusty roads and cobbled buildings in disrepair, was completely paved and painted yellow to match The Convent at the city center.
You would think that this must spell out the importance of Catholicism in the population that surrounds the city. The grim reality is that most of the population is unbelievers and non-practicing Catholics. Mixed in is a hybridization of local Mayan God worship and Mexican Catholicism.
I was shocked that almost completely absent is any Catholic iconography. Candles and Lady of Guadalupe shrines were exceedingly rare. Realizing this I started to feel an immediate sense of dread mixed with intense urgency. I always thought worst case scenario is that Gospel of Jesus was being told with the filter of Catholicism. The reality is that Gospel is being strangled there, distorted or completely nonexistent. Apostle Paul wrote: "Now concerning the times and the seasons, brothers, you have no need to have anything written to you. For you yourselves are fully aware that the day of the Lord will come like a thief in the night." God was showing me intense urgency, that those from Yucatán should not perish, but should experience salvation through Jesus Christ.
I was deeply saddened that many would not be prepared for the master's return. I did see glimmers of hope and opportunity, that God was working there. Missionary Charles Lee and those at Gospel Garden ministries have vigilantly been preparing VBS materials and performing Youth Ministries yearly in the surrounding villages throughout the Yucatán peninsula. This continues as well through Bethel International Christian Academy (BICA). Upon returning home the students at BICA are able share the Gospel with their siblings, parents, cousins, and neighbors. This gave me hope for the people there.
Jesus said, "A new commandment I give to you, that you love one another: just as I have loved you, you also are to love one another. By this all people will know that you are my disciples, if you have love for one another." I was fortunate enough to see this lived out.
From the beginning of the trip I saw the team help with each other's baggage, and throughout watched authentic heartfelt testimonies of brothers and sisters. Daily I witnessed Irene and Missionary Mary Lee, lovingly prepare breakfast together. The love and care they showed for each other was truly amazing. I saw genuine love and fellowship between Missionary Charles Lee and a local Pastor Joel after not seeing each other for nearly a year. I felt it was a beautiful expression of love for one another. It was Joel's birthday, he opened up his party and gave us, his unknown siblings in Christ, food freely from what they had. The entire family warmly welcomed us and called us "hermano" (brother).
Their kindness made me feel so loved, and part of a much larger kingdom. God showed me compassion and empathy for my brothers and sisters in Christ, and the fulfillment of the promise of Jesus. God opened up my heart to look beyond myself, and showing me an example of how to live upon my return to Orange County and CrossWay.
It's been such a busy season, in which I can easily get frustrated and overwhelmed, but I was led to show love, through patience and kindness for my brothers and sisters, and my neighbors. 
– William Johnston

* Read the Yucatan Mission Online Report here.